Shared taste and an appreciation for the family's global treasures helped designer Ann Edgerton take a couple's east Austin townhouse from spec to spectacular.
Ask Ann Lowe Edgerton, 29, who her favorite artist is, and this design guru will light up over Donald Judd, the father of American minimalism. "I like clean lines and open, well-organized spaces," Ann extols; such is the aesthetic she brings to her east Austin business, Ann Edgerton Interiors & Styling. Making spaces beautiful since 2011, when Ann partnered with the local restauranteur behind culinary wonder Contigo to facilitate a "complete dining experience," she draws on both her studio art background and her genuine love of all things funky and functional to decorate a space. "I will stay up late. I will have all the excitement anyone could possibly have," when it comes to creating the perfect environment, Ann says—the "perfect environment" being one that celebrates her clients' personalities while maintaining a desired "mood" and minimizing clutter.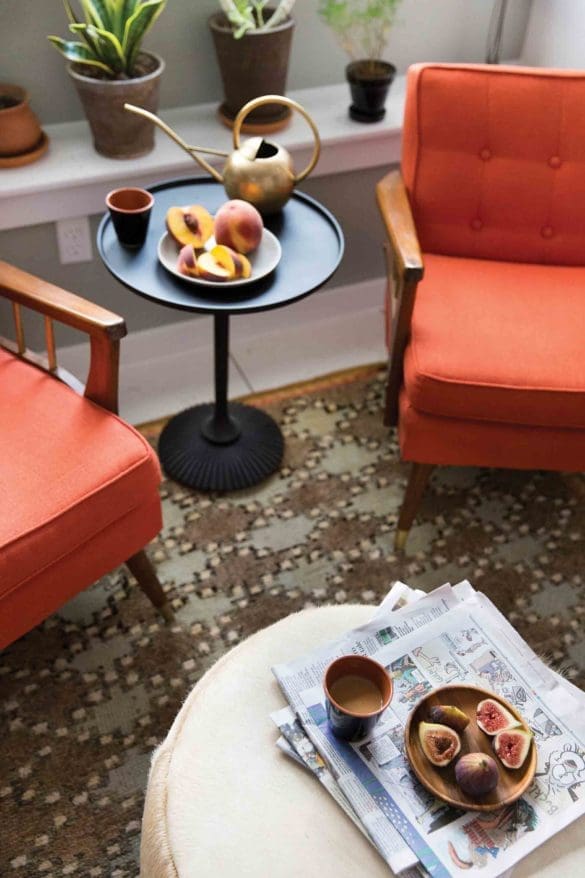 Those who have patronized Contigo are familiar with its outdoorsy rustic charm, featuring lots of natural wood, handmade tiles, and iron accents. After seeing what their daughter could do with everything from lighting to seating, Bruce and Martha Lowe hired Ann to decorate their vacation home on the Llano River and then their permanent residence in the Mueller neighborhood on Page Street. From these early forays into both commercial and residential space development, Ann built a portfolio that soon attracted commissions for numerous other Austin area homes, as well as downtown office spaces like PGI Studios, now housed in the renovated La Zona Rosa nightclub.
For Bruce and Martha's townhouse on Page Street, the design is rooted in tradition with a fresh modern edge. Ann explains, "The house was well-laid out but generic and impersonal before we made our additions." The goal was to make the home feel more sophisticated than their Llano River house (since we are in the city), but also keep it earthy, globally-inspired, and mostly comfortable. Classic fabrics were used, yet not precious, so that one could always find a space to flop down and read a book or a newspaper. Rich woods bring depth to each space while peaceful color palettes of grays and blues shift emphasis from room to room. The chocolate and sandstone colored linens confidently combine with more refined metals such as chrome and brass, giving each space an earthy elemental character with a touch of sophistication.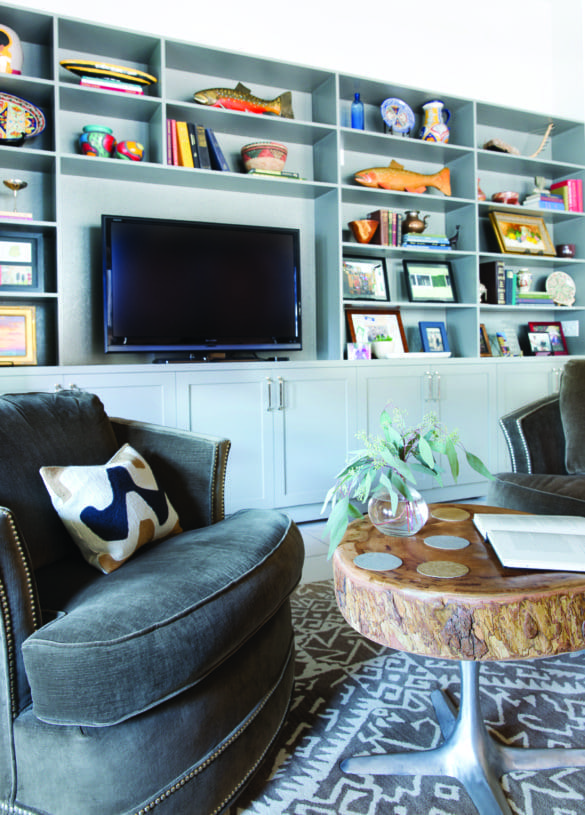 "The clients have traveled all over the world so I had some beautiful objects and art to work with," Ann enthuses. "I wanted to create a space where these objects were allowed to tell their story and compliment other elements of the home. So we added rugs with ethnic patterns, horned lamps, bone bowls, and handmade rugs from around the world." In Bruce's office, Austin woodworker Brian Chilton built rustic modern bookshelves made from reclaimed longleaf pine accented with black metal showing off its purity in form. Martha's office features a custom wall-desk with a natural pecan surface held up by sleek black cabinets by TreeHouse, an Austin supplier that Ann calls an "eco-Home Depot for whole kitchen design."
Copious shelving is incorporated into nearly all of Ann's designs because good organization reduces the amount of "stuff" needed (especially when a client is downsizing space) while making it easy to display family "treasures." "People rarely think to go up," she explains, "but it's like, use the walls!" Vertical storage turns unused space into a place for story-telling.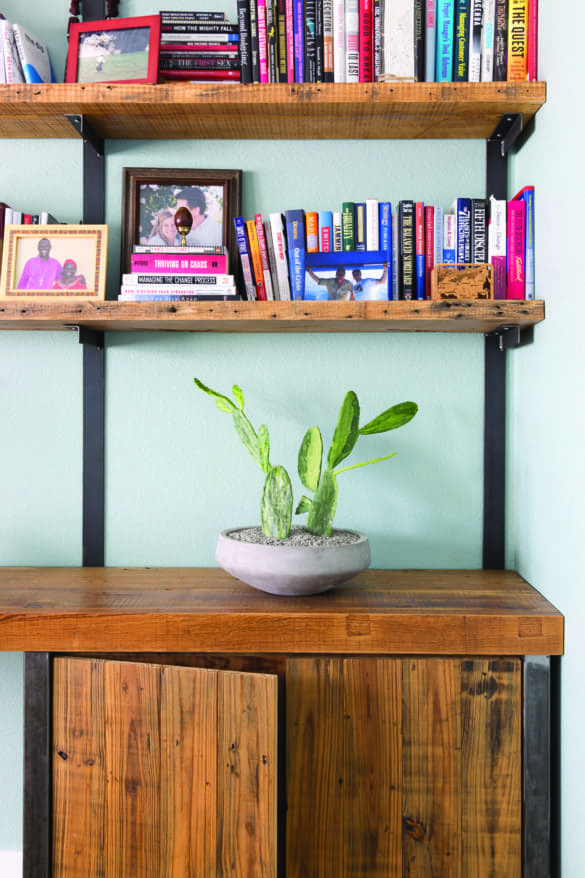 For Bruce and Martha, that means showcasing their many artifacts from a lifetime of travel on clean shelving that Ann designed. It was important to them to use the space extremely efficiently since they were losing so many square feet moving from Midland, Texas where everything is bigger. A wall-to-wall custom built in storage system is also on display in the living room in order to maximize and organize the space. "Since this is the only living room, I wanted it to be able to be lived in and not just look good," Ann explains. "In the end, the space feels open and airy because there is little clutter and everything is displayed on a shelf or concealed inside of cabinets."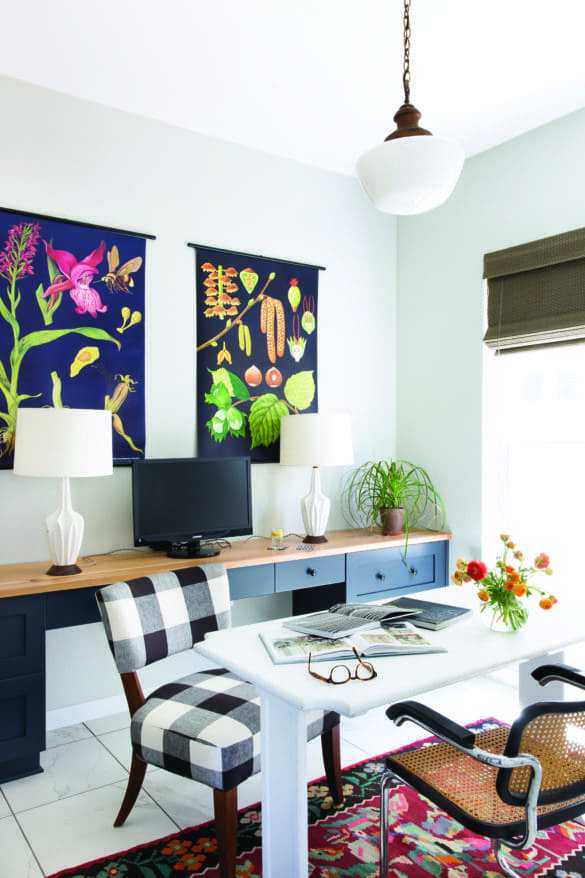 Ann's own tastes tend toward the found and the vintage—pieces that are truly one-of-a-kind, and that you won't find anywhere else. She scours thrift shops and antique malls, consignment stores and flea markets to source everything from furniture to wall art. When she has a concrete idea for what she wants in her head, Ann will wait patiently for as long as it takes to uncover the perfect mid-century lamp or native rug, because it makes each space in the project unique. The Page Street project boasts a heavy tree stump table in the middle of the living room. Ann recounts the process of hunting that center piece down. "We needed something very specific in that space since we had two elegant swivel chairs, and a comfy sofa in a small area. It needed to be very minimal in order to not overwhelm the space. We found this super sturdy piece at Uptown Modern and knew it was perfect. It has the tulip base that keeps it open and not too chunky, and the top is super heavy and sturdy so you can put your feet up on it, kick back and relax. Plus it swivels which is just fun."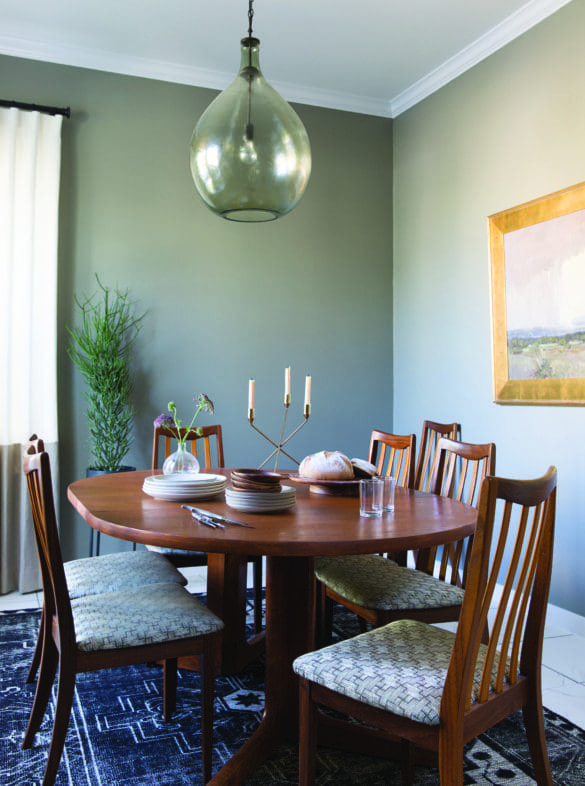 In addition to decorating, half of Ann's business takes the form of "styling," or staging spaces for photoshoots. Big-name magazines including Good Housekeeping and Country Living have hired Ann to style spaces for their shoots, as have local architecture firms. For these quick turnarounds, Ann brings in props and makes minor furniture arrangement and color palette tweaks to instantly transform a space. Ann offers the same service for as little as $100 to home consultation clients who just want to explore the possibilities for better working with the decor they already have. "[Decorating] is really what I love, what I really want to do," she affirms. "Being creative, and being able to express yourself—it's vital."
The Page Street project is now one of many projects under Ann's creative hat, but it will always be a "special one because the clients are my parents who I respect and am constantly inspired by. It was an honor and joy to get to work with them."
---
Contact:
annedgerton.com
annlowedesign@gmail.com