"We wanted a drink that was summertime appropriate. It's peak of peach season, and though pecan season lasts a little bit longer, the pecan taste adds a bite to the flavor," says Maguire.
Words by Kaitlyn Pleasants  Photos by Aaron Rimbey
Dubbed as one of the most "local" drinks of east Austin, Kooper's Cobbler is the latest creation from local sip expert David Maguire, owner of The Austin Shaker. Maguire says the southern dessert favorite, peach cobbler, was the inspiration for this summertime cocktail. Keeping with the southern theme, this creation is made almost entirely of fresh, local ingredients that are mouthwatering and in season. The blend of fresh peaches grown down the road in Fredericksburg and locally made and sourced wildflower honey lends a sweet flavor while a tart finish from the lemon and earthy notes from the toasted pecan bitters rounds out the warm and refreshing flavor that'll remind you of home sweet home.
Kooper's Cobbler Recipe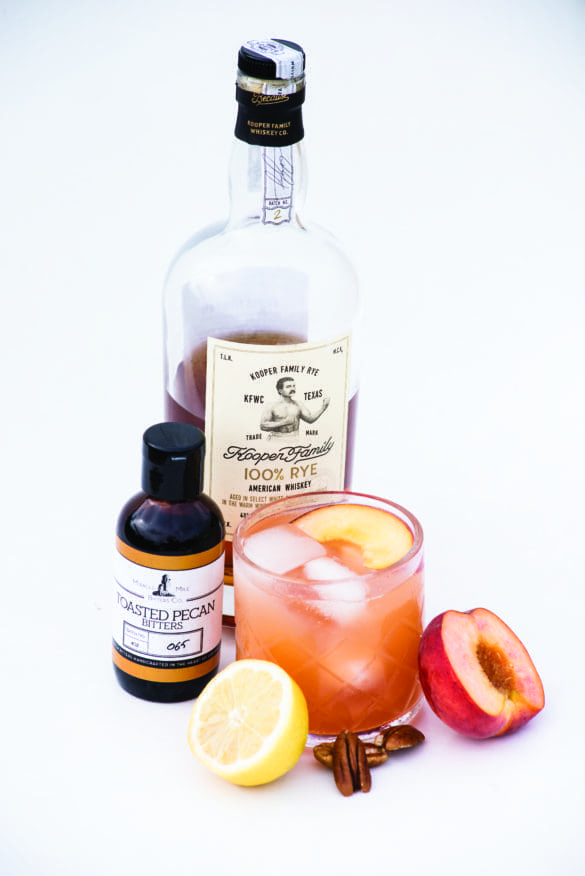 2 oz. Kooper Family Rye Whiskey
1/4 oz. Fresh Lemon Juice (strained)
1/2 oz. Runny Honey
1/8 oz. Miracle Mile Toasted Pecan Bitters (available at The Austin Shaker)
1/2 of a Large Fresh Texas Peach (or 1 whole small peach)
In a cocktail shaker, add peach slices and crush with a muddler or the end of a wooden spoon. Add lemon juice, runny honey, whiskey, bitters and ice. Close shaker and shake vigorously for 30 seconds. Double strain into an ice filled old fashioned glass using a standard strainer and a fine basket strainer in order to remove all the peach pulp. Garnish with a peach slice…Enjoy!
To make Runny Honey, use 1 cup of local wildflower honey and 1 cup of water. Place on medium heat stirring occasionally until fully dissolved. Let cool before using. Store extra in refrigerator. It should last for about a month.
---
Contact:
512.524.0754
1199 Airport Blvd.