Whisler's Josephine Baker
Words by Kaitlyn Pleasants   Photos by Whitney Runyon
1816 East 6th Street  |  whislersatx.com
If you're thinking rustic Texas and old Mexico, think Whisler's. With a rotating menu and seasonal, eclectic cocktails to back up their diverse menu, Whistlers has a whole lot of history and a whole lot of flavor. The three-year-old bar nestled into a 99 year old building is stocked with vintage Texas artifacts and barren, old West style. As the only bar to include a mezcal bar on site (and upstairs), this East 6th Street spot is home to quite possibly the only mezcal bar in the country.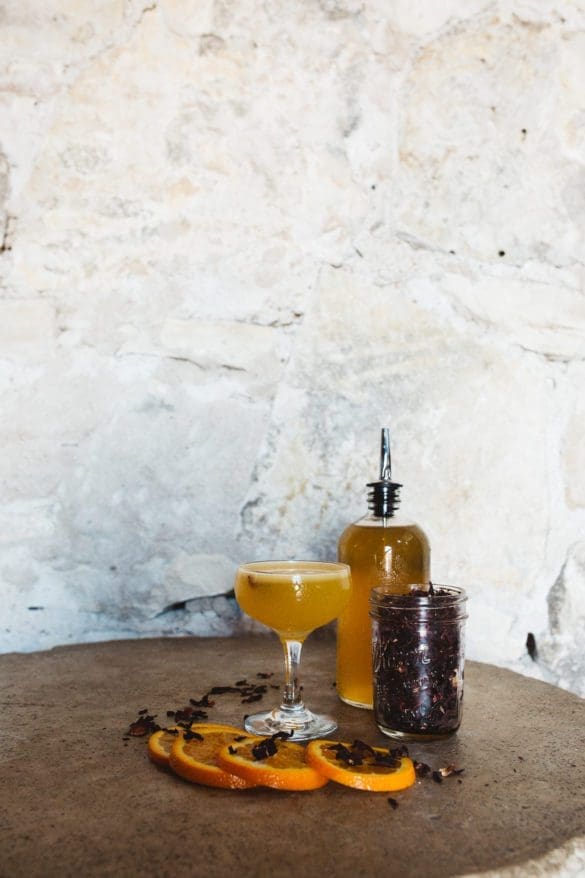 Come in for a famous Whistler's Old Fashioned, or enjoy an original cocktail crafted by the Whisler's staff. Each drink on the menu has a seasonal spin, and any ingredient can go. Past and present drinks have included anything from Spanish chorizo mezcal to fresh golden beets. The spring sparkler, Josephine Baker, is quite literally spring in a glass – with tangelo-infused vodka, poppy flower liquor, tangelo, lime, honey and burlesque bitters – perfectly refreshing and bright drink for a hot day. The blank canvas of vodka allows for the tart, citrus flavors to keep your mouth watering for more and leave you wanting to try what else could possibly go down this smooth.
Native Knowledge: Sign up for Whisler's cocktail club. The first of its kind, the classes will be held upstairs in the mezcal bar, and their chef will serve small bites to accompany the drinks you'll learn to whip up.
---
Inside
Josephine Baker
Tangerine-infused Vodka
Poppy Flower Liquor
Tangelos
Honey
Burlesque Bitters