The Hightower's Eastside 75
Words by Ashley Bowling   Photos by Ashley Haguewood
1209 E. 7th Street, 512.524.1448 | thehightoweraustin.com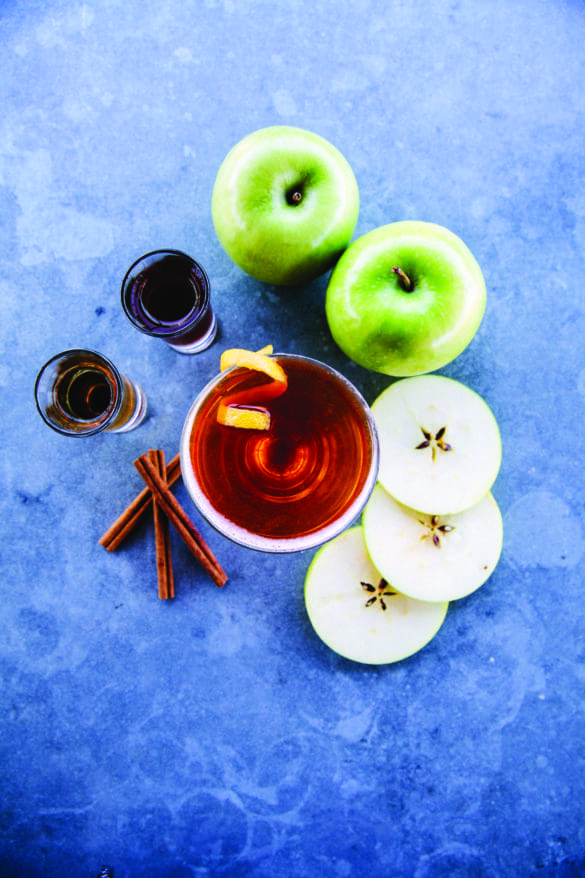 The Hightower boasts a friendly atmosphere and a flavor-FULL menu from the bar and the kitchen alike. The chill esthetic and ecellent service has kept neighbors coming back for over two years now. A local favorite is Eastside 75 which bar manager, Robin Ozaki, can serve up in a minute's time. But it doesn't begin that way. The apple-cinnamon shrub is quite the process that is begun days in advance rendering a depth that sings with Texas flavors.
For the citrus lover, try the OMD, aka Oh My Darling, an icy and refreshing mix of gin, oleo saccharine, bright clementines, and bubbles. In the kitchen, co-owner and executive chef, Chad Dolezal, is cooking up simple dishes with surprising elements like the Brussels Sprouts with a homemade peanut butter glaze, golden raisins, sambal, and lemon or the Mahi Mahi Ceviche with fennel mojo, shallots, popcorn crumble, orange, and scallion ash for a smoky finish. During happy hour, small bites start at only $3.50. Chef Dolezal's most popular dish is the Asian-inspired Roasted Pork Jowel with rice, avocado, pickled shallots, cucumbers, and house-made Sriracha with an egg yolk in the center—served ready to stir together and enjoy the creamy goodness. The Hightower is a place doing more with less and their prices prove it.
Must Try: S'more Fried Pie—charred marshmallow, chocolate brownie, ice cream, and cinnamon crumble topped with mesquite smoke, so when you open the lid, campfire is the first aroma you smell.
---
Native Knowledge: During Saturday and Sunday brunch, The Hightower offers a Bloody Mary Bar. The liquor option is Vodka or White Dibble Whiskey served with a pony Miller Highlife, then add pickled vegetables 'til your heart's content.
---
Inside
Eastside 75
Bourbon
Bitters
Home-made Apple-cinnamon Shrub
Austin Eastciders