School House Pub's Detention
Words by Ashley Bowling  Photos by Ashley Haugewood
2207 Manor Rd. | schoolhousepub.com
No homework here! School House Pub is everything you wish school could be. From the moment you stroll up to the patio, you're immediately taken back to the old-charming school house days. Books adorn the walls while periodic tables are at hand. They even offer a Libations 101 class where participants can learn the chemistry of cocktails. But it doesn't stop there. All their cocktails remain true to the character that greets you as you arrive—with names like Hall Pass, Teacher's Pet, Intro to Spanish, and Extra Credit, to name a few.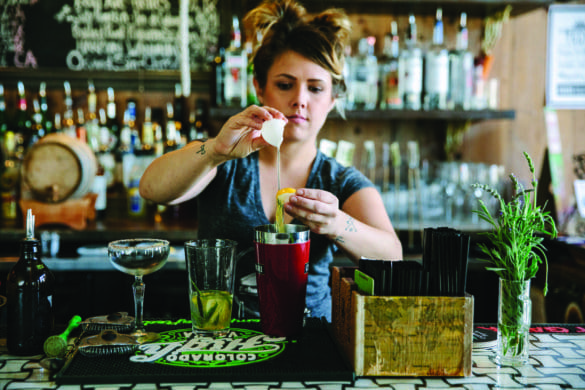 The Detention cocktail has soft citrus hues, accompanied by the sweet spice of sugar and clove that hit the tongue finished with a touch of honey. You won't just find crafty cocktails at this School House. They are cooking up some old fashioned lunch box favorites with a modern twist. The Mac n' Cheese has aged cheddar, parmesan, crispy pancetta, and watercress. May we recommend the Deviled Eggs which are fried and topped with crisp chorizo or the Savory Popcorn with shaved parmesan, bacon, and sage? School House Pub also offers a full menu with classics that are much more savory than any school cafeteria could ever be.
---
Native Knowlege: Libations 101 is offered monthly with classes such as chemistry, beer cocktails, mezcal & tequila, winter cocktails and so on. This entertaining class makes a unique date night or come alone and meet new people. You get to learn about and sample 3 tasty cocktails. It's about an hour long, and you're sent home with recipes and gifts for your home bar.
---
What's Inside
The Detention
Bombay Sapphire
Paula's Texas Lemon
Lemon Juice
Egg White
Lavender
Clove
Honey