East Austin Theater Group Electrifies Stage
Words by Jennifer Simonson  Portraits by Aaron Rimbey  Stage Photos Courtesy of Rude Mechs
History is full of great characters, and Nikola Tesla is no exception. A mad scientist. A genius before his time.
Tesla gave the world alternating current and radio transmission. He envisioned wireless technology and cellphones a century before they were invented. But his obsessive-compulsive disorder drove him to count everything in the number of threes, possess an extreme aversion to human hair and believe he was in contact with aliens leaving him detached from society, turning to pigeons for comfort before dying alone and penniless in a New York City hotel room.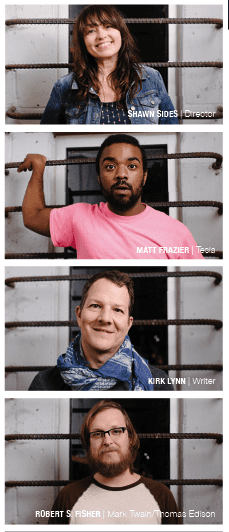 Is there better fodder for a play character? Austin-based collective theater company Rude Mechs thought not when they were searching for a subject matter for a new project.
"We knew we wanted to do a sci-fi piece, and we were just sort of rooting around looking when we read the shortest bio of him in an anthology of interesting scientists. Of course, immediately we were like, "oh my god!" he hates spherical objects and he loves pigeons. He is so OCD he counts everything in threes, and he was such a big showman. [His story] was just so rich and genius and sad," said director Shawn Sides.
Requiem for Tesla, the semi-biographical, sci-fi homage to Nikola Tesla, premiered in 2001, before the world embraced Tesla as a household name, before there was an automaker named after him or before David Bowie played him in a movie.
"Today people know Tesla, but in 2001 he was pretty obscure," Sides adds. Despite his relative obscurity at the time the play was so popular, they brought it back in 2003 with a revamped script and set design. To celebrate its 20th season, Rude Mechs is bringing back Requiem for Tesla in December for a third iteration combining the 2001 production design with the 2003 script. The 90-minute play picks up Tesla with his arrival to America from his native home of modern day Croatia. It highlights his success with alternating currents and radio transmission and his tumultuous relationships with Thomas Edison, J.P. Morgan, and George Westinghouse who cheat Tesla out of his earnings and seek to ruin him all while exposing the psychological oddities of this deeply haunted man.
Requiem's five-member cast, live music and its high voltage stage collage portrays Tesla's continuous teetering between genius and insanity, including his deep love for a pigeon, a love from which he believed his was reciprocated.
"This Tesla is far from the mad scientist the media made him out to be—no raving Dr. Frankenstein, as Colin Clive had him in the 1931 film, no death ray-dealing fiend in a Superman cartoon. But the Rudes use these images as an atmospheric jumping-off point; they playfully tell Tesla's story through conventions of Hollywood horror…" said the Austin Chronicle in January 2003.
Requiem for Tesla will run for two weeks in December at The Off Center. It will be one of the last shows to take stage at The Off Center as the theater is slated to close in May.
---
When:
December 1-18, 2016
Thursday-Saturday 8pm; Sunday 5pm
Where:
The Off Center, 2211A Hidalgo St.
Tickets: $12-$35 Sliding Scale
---
Contact:
512.476.RUDE
2211A Hidalgo St.
rudemechs.com
@rudemechs