Whole Grain Zucchini Pumpkin Spice Bread & Banana Bread
For this healthy holiday issue, sharing my zucchini pumpkin spice bread and my banana bread recipes seemed fitting. These breads are the perfect thing to bake around the holidays. They're great to make ahead of time for visiting friends and family or to give as gifts. This is something that can be whipped up a few days prior because the flavors and textures only get better on the second and third days. I like to put as much fiber and vegetables or fruit into my quick breads as scientifically possible. The goal is to develop recipes that maintain a moist, hearty structure while remaining healthful and complex in flavor. I strive to bake something I can eat in the morning and not feel as though I've just eaten a piece of cake for breakfast. For more flavor and to add a healthy protein and fat, smear almond butter or peanut butter on a slice, and, of course the comforting breakfast experience is always heightened with a cup of coffee or tea.
---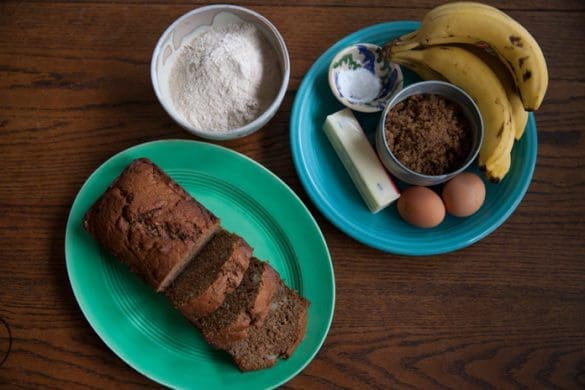 hannah banana bread
½ cup Butter, softened
1 cup Brown Sugar
2 Eggs
1 tsp. Vanilla
5 very ripe Bananas
2 cups Whole Wheat Flour
¼ tsp. Salt
1 tsp. Baking Soda
Preheat oven to 350 degrees. Using a stand-up mixer with a paddle attachment or a wooden spoon, mix together the butter and sugar, then add eggs, vanilla and bananas. In another bowl, mix together the flour, salt and baking soda. Slowly combine the wet ingredients with the dry.
Spoon into small loaf pans and bake for 30-40 minutes, depending on the size of your pan(s). (The smaller the pan, the less time in the oven.)
---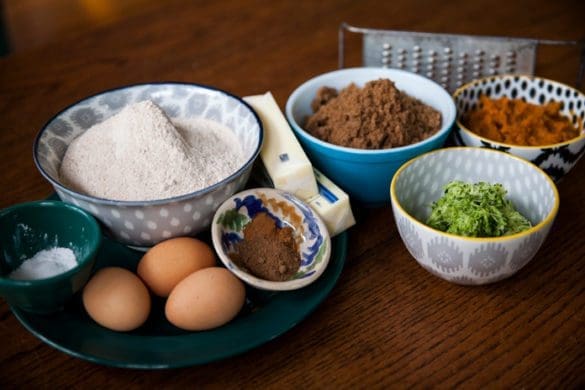 zucchini pumpkin bread
Yield: 2 loaves
1 cup canned Pumpkin
1 1/2 cups grated Zucchini
3 Eggs
3 cups All-purpose Flour
1/2 tsp Baking Powder
1 tsp Baking Soda
1 1/2 cup Brown Sugar
1 tsp Cinnamon, ground
1/2 tsp Cloves, ground
1 tsp Nutmeg, ground
1/2 tsp Salt
1 tbsp Vanilla extract
1 cup Walnuts (optional)
1 cup Butter, room temperature
In a bowl, beat butter and sugar until fully incorporated. Add eggs and vanilla, mix in fully, then mix in pumpkin puree. Combine dry ingredients in a bowl and gradually add to the wet mixture, mixing well. Stir in zucchini and nuts. Pour into two greased and floured 9-in. x 5-in. loaf pans. Bake at 350° for 45-55 minutes or until breads test done. Cool in pans 10 minutes. Remove to a wire rack.
---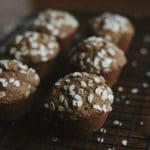 Quick Breads:
Quick breads are also referred to as breakfast breads or tea breads. "Quick" implies chemical leavening as opposed to yeast risen. These breads are fun to make with whole wheat, oats, spelt, flax, etc. because they provide a depth of flavor that white flour doesn't, and as an added bonus, they're better for you!
To me, quick breads are nostalgic. There is a Danish word, "hygge," that encompasses a feeling more than a specific definition: "Though there are many ways to describe hygge, we see it simply as the Danish ritual of enjoying life's simple pleasures. Friends. Family. Graciousness." Banana bread and spice bread stir up emotions, memories and feelings of being in a comforting time and space.
---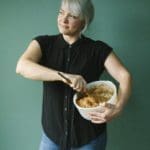 About Hannah: 
While earning her pastry and baking degree at the Culinary Institute of America (CIA), she began to realize how much she loved nutrition and physiology. She became a registered dietitian after the CIA, and it has become her passion to live and bake in the intersection of delicious and nutritionally sound. Her upcoming brick and mortar bakery will be a haven for healthful baked goods and hygge.
hannahbakery.com