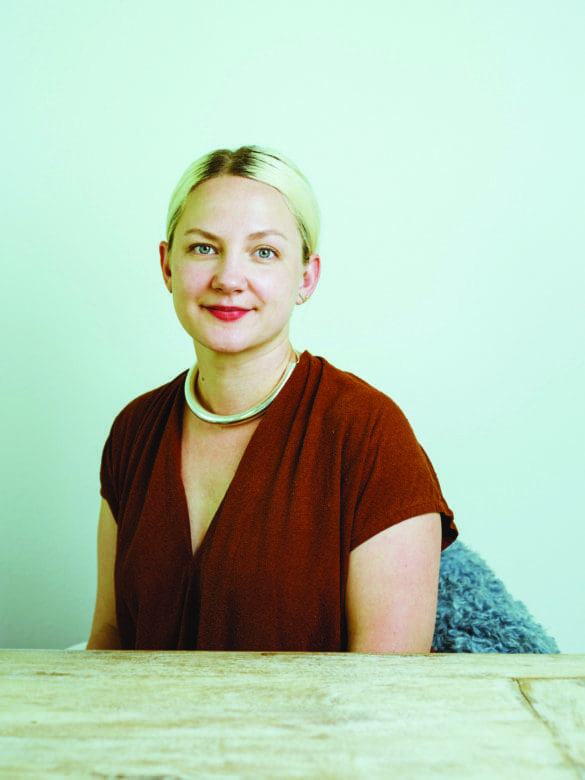 Walking into fashion designer Miranda Bennett's studio and storefront is an experience in remembering what calm feels like. A ceramic mobile sways peacefully in the window, while Bennett's dog lounges on a beautiful woven rug.  It's a quiet oasis of calm and beauty in a nondescript office center in northeast Austin.
Words By Mary Bryce Photo by Eric Morales
"Austin is an incredible incubation for starting something," says Bennett. Originally from Austin, Bennett moved to New York City at the age of 17 to pursue a career in fashion. In 2013, creatively drained from the pressures of the city, she moved back to Austin, unsure if she even wanted to continue pursuing design.
Upon returning to Texas, Bennett realized that she wanted to relearn how to make things, "stripped away from all commercial motivations." In a small studio off Bolm Road, she spent months learning about natural, plant-based dyes and slowly returning to a more playful process of designing and creating clothes.
Though different from the immediacy of everything in New York, in Austin she's found an incredibly supportive community of women and artists. "Rather than resources being fixed and finite, Austinites share with their neighbors, and in turn, everyone's work is enhanced by that attitude," Bennett says with delight. Indeed, Bennett was encouraged by a friend to apply to the first FELIZ sale, a one-day fair where hand-picked designers and makers showcase their wares. By the end of the day, she had sold out of her main prototype, the Everyday Dress, which ultimately became the foundation for her current line.
Not long after FELIZ, Bennett opened her first storefront and studio off Rosewood in east Austin. However, the continual development and bustle, as well as foot traffic in the area, ultimately lead her to seek a different space, hence her new studio. "Being away from the fray and less distracted" has been a profound setting for both Bennett's creative growth and as well as her quality of life. Though she still works 8 to 12 hour days, Bennett finds comfort and solace in the natural spaces that Austin affords, including in her home, which is located in east Austin. "It's a gentler environment, a great place to start something new," she reiterates.
Bennett's line is all designed, dyed and sewn in house, meaning that she and her small team are completely engaged in the entire process. "Having control with the team gives immediate control and customization. We don't do late deliveries," Bennett says.  Bennett's dedication to making graceful, timeless pieces has been received with great success. Her designs now have a customer base that ranges as far as Paris, Tokyo, New York and Austin, where her line is carried at both KickPleat on 12th Street and Olive on East 11th.
---
Model:
Nikisha Brunson
@nikishabrunson
---
Contact:
mirandabennettstudio.com
@mirandabennettstudio