No Boat, No Problem
Words by Nick Runyon  Photos by Whitney Runyon
Think back on your childhood. What is that one thing, if you sit and reminisce, that will always evoke a warm memory or cheesy smile to your face? Was it that fort you built in the woods and all the adventures that surrounded it? Was it a yearly vacation where you looked for shells on the beach? Maybe it was your bike or your first car? For me, it was the lake. All of my best memories are surrounded by the lake and water. Even as an adult, anytime I am on the water I find myself more relaxed and sporting that cheesy childhood grin. But now I live in east Austin with no boat and no lake (I know…poor me). There is hope though. There is a place where I can play on the water all day, and I don't need a boat. Enter Next Level Ride Austin.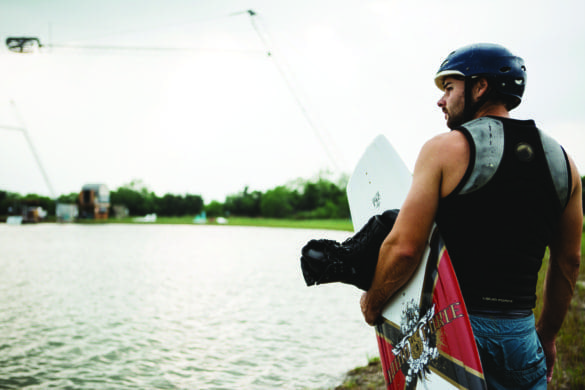 Next Level Ride is a wakeboarding cable park located 8 miles east of Austin Bergstrom Airport. A cable park is a man-made round lake with an electrically driven cable system suspended above. A rope is attached to the cable, and it pulls the rider around the lake. No boats needed! The lake is then filled with ramps, rails, and all sorts of different obstacles for the rider to test their skills. It's like a skate park for wakeboarders.
When I showed up to Next Level for my first visit, I was warmly greeted by owners Niki and Curt Sotkovski. Before the cable park, Niki and Curt worked jobs from construction to kinesiology but would spend any spare time on the lake wakeboarding. Like most of us, they were tired of working a 9 to 5 job so they decided to pursue their passion. That passion led to the opening of Next Level Ride last October.
A day at Next Level could include wakeboarding, swimming, paddle boarding, sunbathing, listening to music, having a beer, or even camping on the 50-acre property. Eventually, they hope to turn the property into an extreme sports megaplex including a moto track, high ropes course, paintball, and disc golf. Also, because of their degrees in kinesiology, Niki and Curt will soon offer sports therapy, general fitness classes, and even SUP Yoga.
Never wakeboarded before? No problem. Niki, Curt, or any of their amazing staff will be happy to teach you or your children, even offering private lessons. What sets them apart is that they truly care about your experience. They will work one-on-one with people and want everybody to leave their park with a smile on their face and feeling like they are friends with the owners. The best part, they tell me, is now you don't have to go west to get to the lake.
---
Native Knowledge: Rent any equipment you need, except swimsuits.Weekdays have smaller crowds, & Thursdays are a wonderful day to come out. Their cable has room for 8 riders at a time. Most can only hold 6 at once. This means lines move faster at Next Level. Slow down as you get close, because The entrance is easy to miss.
---
After wakeboarding for about two hours on their top notch cable park, the sun began to set, and I parted ways with Niki and Curt. I hopped in my car, and as I began to back out, I saw my face in the rear view mirror. There it was again: that cheesy childhood grin.
Contact:
512.915.9056
5400 HWY 71 Del Valle 78617
nextlevelrideaustin.com