East Side Shopping Guide
With the cold weather finally rolling in, running all over town gift shopping is less than ideal. Luckily, the east side has everything you need this season from gifting, thrifting, to good eats. It's all locally sourced and found right here.

The Fox Den
SHOP.THE.FOX.DEN | 1105 Chicon St.  | Wed-Sun 11am-6pm
House plants are perfect for this time of year, and The Fox Den has you covered for a wide variety of cool air plants and more! Also, shop for the vintage lover in your family with accessories and home decor that tells a story. Don't forget the lotions, candles, and essential oils to keep you and your home smelling fresh all year long!
 What To Wear
Armadillo Tee at The Fox Den  $25
Vintage High-waisted Adolf Skirt at Friends & Neighbors $56
Witchy Lace-up Booties at Friends & Neighbors $68
Hand-made Bolo Tie Neckpiece at The Fox Den $128
Lee Coren: California Fold Over Clutch at Friends & Neighbors $66

Hope Farmers' Market
hopefarmersmarket.org  | 412 Comal St.  |  Every Sunday 11am-3pm
On any given Sunday customers can find: farmers & ranchers with a wide variety of seasonal produce, meat & dairy products; food artisans & chefs serving preserves, pastries, tamales, sandwiches, curry, and tacos; local artists who design and make jewelry, clothes and home goods; non-profits sharing information about important causes, and live music.
What To Wear
Passport Vintage Logo Tee at Passport $32
Long Denim Overalls at Passport $64
BZR Purple Sunglasses at Aro $48
Cab Collection Multi-toned Circle Bag at Aro $25

Aro & Passport Vintage
shop-aro.com | passportvintage.com | 906 E 5th St. #106  |  Mon-Sat 11am-7pm, Sunday 12-5pm
Conveniently located in the same space, both offer expertly sourced clothing, accessories, and so much more. Aro is stocked full of exclusive designers and jewelers. Pop in for the perfect accessories, then head up stairs and snag the best of the best vintage items in their showroom, complete with classic styles and a team who is more than happy to help you get the right fit.
What To Wear
Proud Mary Striped Clutch at Aro $48
512 Levi's Black Slim-fitted Jeans at Passport $88
Proud Mary Chamula Shearling Clutch at Aro $110
Vintage Levi's Jacket at Passport $88

Friends & Neighbors
friendsaustin.com   | 2614 E Cesar Chavez St.  |  Tue-Sat 8am-9pm, Monday 8am-6pm
In the midst of winter, find a home away from home at Friends and Neighbors. Stop, shop, and relax in this cozy environment. Get a drink or two while you choose from several local jewelry designers, expertly picked vintage, and so much more. 'Tis the season for unique gifting, and Friends and Neighbors has it all!!
What To Wear
Lilah Shepherd Ceramic Eye Necklace at F&N $80
Orange Hand-made Beaded Diamond-shaped Earrings by Zulma (@zartiztry) at F&N $33
Vintage Wool Plaid Poncho at F&N $44
1970's Jute Bag at F&N $45
Royal Blue Vintage Wrap Skirt at F&N $54
Classic Nine West Slip-on Shoes at F&N $45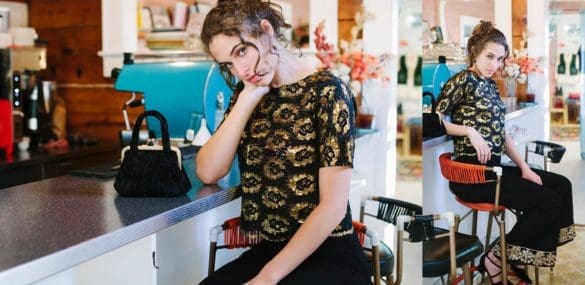 What To Wear
Vintage Nasha Wide-Legged Pants at F&N $56
Brocade Lace Top at F&N $35
Vintage Velvet Close-toed Shoes at F&N $52
Black & White Handmade Beaded Diamond-shaped Earrings by Zulma (@zartiztry) at F&N $33

Raven+Lilly
ravenandlily.com  |  2406 Manor Road, Suite C  | Tue-Sat 10am-6pm, Sunday 12-5pm
Raven + Lily specializes in handcrafted, beautiful products perfect for that certain woman in your life. Spreading beauty and culture through their minimalistic designs, this one-stop shop is perfect for finding the best gifts this holiday season
What To Wear
Nurul Silk Full Maxi Skirt, in Mediterranean at Raven+Lilly $258
Kerina Triangle Drop Earrings at Raven+Lilly $48
Kerina Horn+Brass Breastplate Necklace at Raven+Lilly $114

Maggie Louise Confections
maggielouiseconfections.com | 1017 East 6th Street |  Mon-Sat 10am-6pm, Sunday 12-5pm
Holiday parties are just around the corner, so sweeten up your celebrations with a bit of crafty chocolates from Maggie Louise Confections. These edible masterpieces make the perfect table toppers for any holiday event, or box them up and stuff them in a stocking or two.
What To Wear
Sofia Silk Button Down, in Ivory at Raven+Lilly $138
Yami Shawl Collar Leather Vest at Raven+Lilly $188
Lucy Organic Denim Pencil Pant at Raven+Lilly $118
---
Gift Guide Ideas

TEYSHA Bootie
Vaquera Star Bootie at Hope Farmers' Market or at teysha.is $240
Vintage Barware
1930's ChaseUSA Cocktail Shaker at The Austin Shaker
Rustic Original Journal
Handmade Journal with 1880's Keyhole Cover-plate at Iona Handcrafted Books $115
Copper Wrap Bracelet
The Mesh Collection Handwoven Bracelet at Agnes Seebass $290

Red Planet Pottery
Fish Mug–for coffee, tea or plants at Friends & Neighbors or RedPlanetPottery $65
Northern Fir Beard Oil
A classic, simple, and effective men's moisturizer at Byron & Blue, Fast Folks, or northernfirbeard.com $25
Sock Club
The Rustler $14/pair or $12/mo. for subscriptions at Hope Farmers' Market or sockclub.com
Cutting Board
Birdseye Maple Cutting Board by Edward Wohl at Take Heart or takeheartshop.com $112

Gourmet Chocolates
Hello Gorgeous Box at Maggie Louise Confections $56
Drop Earrings
Kerina Triangle Earrings at Raven+Lilly $48
Leather Wallet
Azeb Wallet in Camel at Raven+Lilly $62
Buckle Cuff
Snake Skin Vintage Lace Buckle Cuff by Clementine & Co. at Hope Farmers' Market $94