Inside the Community… We Call Home.
What does it mean to live in east Austin? As you will soon find out, there is no one answer to that question. The community here is as diverse and beautiful as they come. It's a hodgepodge of old and new catering to many different lifestyles. From the young professional looking for a vibrant urban environment, to the family seeking the outdoor lifestyle and parks these communities have to offer, to the empty nesters just enjoying the beauty of the neighborhood and friendly waves from their front porch, the possibilities are endless. Regardless, there is a strong sense of community here if you just get to know your neighbors. 
You will come to find that change is inevitable. Yet, the important thing to remember is we are all human and we need each other. It's important to connect and even more important to respect the history of those who have laid the foundation, those who make this community what it is today.
---

East Riverside
This once up-and-coming neighborhood has now transformed into a haven for families, students, and young professionals alike. It's on-the-lake location and waterside biking and running trails add panache to the neighborhood, while a recent influx of food trucks and music venues has made East Riverside unrecognizable to what it was 20 years ago. As a fusion of the best of old and new Austin, you can now enjoy a mimosa on the patio and walk across the street to pick up fresh fruit from the local street vendor on Pleasant Valley.
The neighborhood still houses the creative types making ends meet at a decent price point. You will still find the occasional loiterer, but with high-rise condos, master-planned communities like Edgewick, and old family homes with large yards, current residents are benefiting from living in the luxury of a lively neighborhood and beautiful running trails.
The Views
Step out of your home and you'll either be greeted with a nice sweeping view of the Austin skyline or the twinkle of Lady Bird Lake in the sunshine. For Austinites, life really does not get any better than this!
 The Food
East Riverside is a foodie haven unto itself. You'll find the fifth installation of Chi'lantro's Kimchi Fries' Empire, a new Jackalope, and the specialty Mour Cafe. Enjoy some of Austin's best and cheapest Vietnamese or Lebanese food between Willow Creek and Pleasant Valley.
The Parks
Within East Riverside, you have the Zilker-sized Roy Guerrero Park, the Krieg Softball Fields with its flock of monk parakeets, the Riverside Golf Course or former Austin Country Club, and the hike & bike trail right on the water
---

Rosewood Neighborhood
Neighbors are welcoming and are committed to giving something back to the community. Through misguided legislation that was enacted in the early 1900s, Rosewood became a historically black neighborhood in east Austin. Though Rosewood Avenue is considered to be the "main street" of the neighborhood, the term also refers to a long string of landmarks that share the avenue's name, making the name as much of an identity as it is a district.
This is a neighborhood with a storied past. From the public transportation boycotts 50 years before Rosa Parks to the Rosewood Courts, which represent the first real effort from the federal government to engage in large-scale neighborhood development that embraced all of the aspects of what would later become known as environmental design, this neighborhood has been an enclave of forward thinking residents. A trait that the community continues to proudly exhibit today.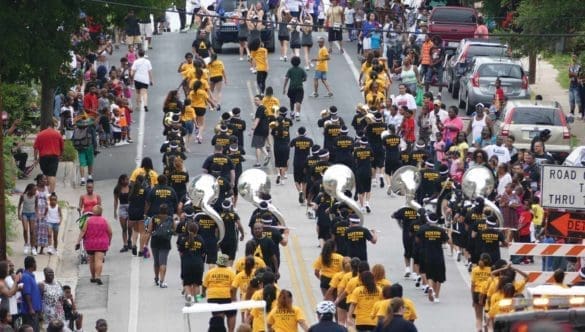 The Festivals
The annual Juneteenth celebration is hosted in Emancipation or Rosewood Park, which was purchased by the African American community specifically for that purpose. It is the site of one of the nation's original Juneteenth commemoration locations.
The Folks
Rosewood is inclusive of Rosewood Courts, an emblem of public housing throughout the nation. Its design was lauded in America and helped improve access to affordable housing for low-income families.
The History
In the early 1900s, the City of Austin adopted an official policy that segregated African Americans to east Austin – with the heart of the plan centering around the Rosewood district. On the outskirts of its varied landscape is the George Washington Carver Museum that serves as a nod to those who transformed the neighborhood into the vibrant cultural center it is today.
The Schools
Blackshear is a fine arts elementary school located in the heart of Rosewood. It was recently awarded the designation of a national blue ribbon school.
All About Community
The Millennium Youth Entertainment Center hosts numerous activities for area youth on the corner of Walnut and Rosewood Avenue. A block farther east is the Austin Can Academy, where neighbors and folks all over Austin come to donate their old cars to help pay college tuition for kids who may not afford it otherwise.
---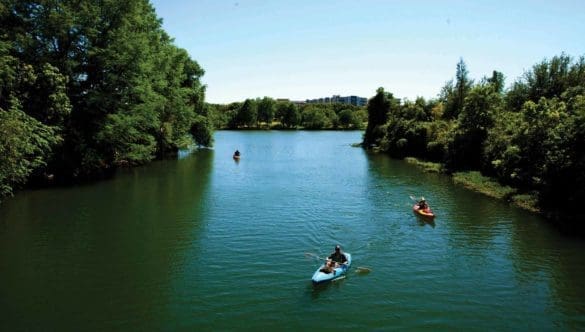 Holly & East Cesar Chavez
This neighborhood has one of the most vivid histories in all of east Austin. As one of the most well-known east side neighborhoods due to its integral participation in the annual East Austin Studio Tour. This traditionally Mexican-American neighborhood has borne the brunt of the city's whims: the epicenter of the former political hot potato and current eyesore, the Holly Street Power Plant. Since the power plant's closing in 2007 as well as the neighborhood's proximity to downtown, the lake, Rainey Street, and the hike & bike trails, desirability and prices have skyrocketed in the area. Not to mention, the area is speckled with popular restaurants like Bufalina Pizza, Counter Culture, and Cenote.
Wandering around this neighborhood, you will see lots of people heading to one of the three major parks during the day. The Holly neighborhood is a highly residential area so single-family homes stretch as far as the eye can see.
The Food
Holly is also known for its many family-owned dining establishments. It's no secret that Austin has a reputation for tasty barbeque, and there's no better place to start than with La Barbecue. At the corner of Holly St. and Robert Martinez Jr. St. is Launderette—a former laundromat, now converted to a retro cafe. Directly in the middle of the neighborhood is Juan in a Million, a wildly popular Tex Mex eatery open for breakfast and lunch.
The Folks
Up until his passing last year, Danny Camacho was a local source of pride and history. A community historian, he lived in this east Austin district for over 60 years.
The Parks
Fiesta Gardens is the main public park hosting many events throughout the year. However, there is also Metz Park which has been around since 1933 and Pan American Park. Not to mention, there is a large community garden too!
The Festivals
From Texas Vegfest to the Ice Cream Festival and the Hot Sauce Festival to Dragon Boat Racing, there is always something fun going on at Holly's Fiesta Gardens.
---

Cherrywood & French Place
The Cherrywood neighborhood is of a more recent vintage than many of its neighbors. Constructed in post-WWII Austin, this infill neighborhood was donated by the Giles family to serve as a residential area between older, established districts. Its "short" tenure is nevertheless marked by a pendulum of transitions from mainstream to funky and thriving to endangered.
Today its formation is reflected in the eclectic hodgepodge of businesses, residents, and incomes that cultivate an Austin-esque atmosphere of affordable good taste. Chock full of supper clubs, art exhibitions, and coffee houses, this neighborhood is anything but cookie cutter.
As you go further south into the woods, you'll find yourself in French Place. This triangular section of town is often considered its own micro-neighborhood. Filled with variety in every respect, this community backs up to Manor Road, a main artery of the east side. Here, hyper-localism is the way of life.
The Food
America's first zero-waste grocer, in.gredients, is happily housed in this neighborhood. There are also award-winning eateries like Dai Due and Salty Sow alongside staples like Hoover's, El Chile, and Eastside Cafe across Manor Road in the Chestnut neighborhood.
The Drinks
Take a trip to Haymaker, Cherrywood Coffeehouse or Thunderbird Coffee where you can sip on a coffee, refresh your palate with a kombucha, or enjoy a lazy afternoon with a cold one.
The Arts
This neighborhood is known for its vibrant arts scene where you can catch performances at the Vortex on Manor Road. Just south of the Vortex in the Chestnut area is Flatbed Press, Imagine Art, and the Photo Méthode Gallery. The Cherrywood Art Fair, an annual event that East-siders look forward to each year, brings in many local artisans to share their craft. To the west, there is Patterson Park where Cherrywoodstock is hosted annually to the delight of residents.
The Schools
Maplewood Elementary School is home to its namesake, located on Maplewood Avenue. There's also Clearview Sudbury School, a school based on the processes of democratic governance.
---
 
MLK Community
One of the most storied and historic neighborhoods in east Austin, the MLK neighborhood still negotiates demographic divisions. Once a predominantly African American neighborhood, today this district is more like a Picasso painting. All the beauty, the history, the charm, and the perseverance of the original East-siders comprise a unique tableau when mixed with the newer residents who splash on their own stories. Still, this neighborhood is a pocket of what some would consider old east Austin. Its industrial façade is broken up by densely populated communities and clusters of entrepreneurial operations.
The Music
Take a trip to the Skylark Lounge where native East-sider Johnny LaTouf bridges the gap between bygone eras and modernity. Or try the Sahara Lounge, a wooden shack that showcases Austin
area blues.
The Food
Mr. Catfish and Country Boyz Fixin's are neighborhood staples that offer down home cooking. Alongside these community pillars, there are Contigo and Terry's Seafood which serve up utterly different but equally delicious bites.
The Activities
Morris Williams Golf Course is scattered with breathtaking greens. Shaded parks like Springdale Park and Givens Park offer a place to relax in the shade while sipping some cold iced tea. If art is more your thing, catch a play or a whimsical musical at The City Theatre.
---
 
Mueller Neighborhood
After transforming from the inner-city municipal airport into a neighborhood, Mueller is an example of a master-planned neighborhood that works. Featured in publications from the New York Times to NPR, this convivial urban refuge is noteworthy for its ability to escape the utopian, Pleasantville image that so many master-planned neighborhoods emanate.
The neighborhood rejects cliches, instead infusing its gravel paths with local flavor. From farmers' markets to hyper local businesses, this pre-planned 700-acre neighborhood even features an innovative children's museum.
Texas A&M has even shown Mueller how to validate the gospel of new-urban planning by making the benefits measurable. It turns out that good design with sidewalks, street lighting, extensive trails, and parkland can actually improve social and physical health.
The Parks
Mueller Lake Park is an urban sanctuary, part of a creative ecosystem of parks that puts every Mueller resident less than 600 feet away from a community green space. Along with shade, it has wide open spaces for kite flying on the gusty days. In addition, two city pools and playscapes are tucked within the neighborhood.
The Views
The Mueller neighborhood is serendipitously located on a plot of land with vista points that seems intentionally designed to allow you to enjoy sunsets in all their glory. Some homes even have a glorious view of our city's skyline.
The Food
From elevated fare like Kyoten Sushiko and L'Oca d'Oro to home-town eateries like Torchy's Tacos and J.T. Youngblood's Fried Chicken, this community is not lacking in variety. In addition, every Sunday from 10am-2pm, you can shop for fresh produce, get to know your neighbors, and better understand the local flora and fauna of the Central Texas region at the Mueller Farmers' Market.
---
Govalle Community
Just within sight of downtown Austin's skyline is Govalle where a drive through the streets may result in a confused understanding of the cultural hodgepodge that is evolving. Down some roadways, you can imagine all of Austin getting its cars fixed, picking up fast food, and getting sharked by payday loans. On other streets, you will see the outcroppings of creative companies. Yet on others, you'll feel the security that a deep-rooted community has sown as the years have passed.
At the same time, as a neighborhood that caters to creatives, you'll find a growing number of galleries and cozy work spots in warehouses as well as an eclectic mix of dining and shopping.
The Folks
What's in a name? For Govalle, it's its history. Settled by Swen Magnus, a Swedish immigrant, its original homesteaded name was "Ga Valle," or "good grazing land." One of Austin's oldest families lives in this neighborhood – they even have streets named after them. The Limons have 5 generation and 2000 members living in and around Govalle.
The Food
Govalle is home to several of Austin's urban farms including Boggy Creek and Springdale Farm which are open to the public and host weekly farm stands where one can buy groceries. Govalle also offers a variety of fare, such as Eden East's farm fresh, Grizzelda's coastal Mexican, Justine Brasserie's French bistro, and Sawyer & Company's New Orleans flavor.
The Arts
Govalle is the hub for Big Medium's East Side Studio Tour as well as home to ThinkEAST, a rent controlled live/work environment for Austin's creatives. Springdale General, The Pump Project, and Creativescape are also housed here and host workspaces for the vast community of artists, artisans, craftsmen, and art galleries.
---

Swede Hill

Neighborhood
Settled by Swedish immigrants in the 1870s, this historic neighborhood is also one of Austin's smallest albeit most visually diverse.
Within its 40 acres, architecture ranges from original historic structures that were built by the 67 ancestral Swedish families to contemporary green designs. The residents are no less eclectic. The neighborhood boasts a community of professionals, artists, students, and urban dwellers.
Despite the continued renovation and urbanization of the east side, Swede Hill has managed to stay overwhelmingly residential. This is due in part to its active neighborhood association as well as its unobtrusive size. Within its diminutive boundaries, however, there is the oldest city-owned cemetery, Oakwood Cemetery, a hidden pocket park, and a rather large and underdeveloped plot of commercial lots on its southern border.
The Folks
With an extremely active neighborhood association, this close-knit community is ensuring thoughtful, if not continued, improvement and growth of their neighborhood within the east side community.
The Parks
Swede Hill pocket park is the perfect size to gather your friends, family, booze, and a picnic. That's right. This little patch of green allows BYOB drinking in the sunshine.
The Food
East side staples like Hillside Farmacy, Franklin Barbecue, and Quickie Pickie reside on Swede Hill's borders and cater to locals and visitors alike.
The Culture
This neighborhood is unsurprisingly flooded with history. Diverse traditions of many art forms are celebrated at galleries like the Texas Music Museum, the African-American Cultural & Heritage Center, and the French Legation Museum.
---

The "Burbs" 
Still centrally located but also isolated enough to feel as if you are miles away from the city lights and sitting beneath Austin oaks watching fireflies dance in the wind are a few more communities that are worth the visit.
Windsor Park is best known for its canopy of wizened trees and role as Dillon, Texas, in Friday Night Lights. Today, residents continue to walk the scenic avenues to enjoy the modern blend of old stalwarts like Bartholomew District Park and Paco's Tacos as well as new additions like the Blue Starlite drive-in.
Dellwood
Though there is a lack of consensus on its spelling and exact boundaries, Dellwood has managed to forge its own identity among its residents. Home of the first auto-dependent shopping center—Capital Plaza—this neighborhood is actually the last of the three original Dellwood subdivisions that were designated in the 1930s.
Directly east of downtown, Agave offers Austin skyline views if you turn around at exactly the right moment. With its focus on creating a community that is highly energy efficient without pricing residents out of their homes, Agave has become a neighborhood of modern, contemporary green homes where creative residents find community.

University Hills
Built in the 1950s and 6 miles north of downtown Austin, University Hills is one of Austin's most desirable neighborhoods. Prior to the move of Mueller Airport in 1999, it was, however, considered less desirable (think to planes overhead). Whether this change in desirability has to do with the rent being 3% lower than average or the centrally-located Tres Amigos is anyone's guess.
Wilshire Woods
Wilshire Woods lies just to the west of Mueller and was one of the original subdivisions of east Austin. At its inception in 1941, developers described the neighborhood as "designed primarily for gentle folk of limited budget but of unlimited good taste." As far as the current residents are concerned, it has continued to live up to expectations.
In southeast Austin, a new urban master-planned community is being constructed. Twelve miles east of downtown near McKinney Falls State Park, these 1,500 acres contain a perfect 13.1 mile loop for runners as well as 350 acres of green space for those who prefer to wander. Currently beginning Phase 2, this neighborhood is slated to have 5,000 residences with 10% allotted to those who qualify for affordable housing. Among these houses, plenty of built-in amenities, shopping, and parkland will be woven in to create a seamless, walkable community.