Buenos Aires Café has the Buena Onda you need.
Words by Erin McWilliams Photo by Richard Casteel
Winter is slowly approaching, but with fall weather still lingering and leaves finally falling, we can't help but hold onto fall

flavors

a little bit longer.
The Buena Onda is Buenos Aires Cafe's take on the classic Penicillin Cocktail. "Buena Onda" means "good vibes" in Spanish, which is exactly what it feels like to enjoy the last shades of fall with this drink.
The Famous Grouse scotch in the Buena Onda will warm you up while you enjoy Argentinian favorites, like empanadas. Buenos Aires Beverage Coordinator, Gala Demarin, recommends pairing it with the "A Fuego Lento" special, a Malbec-braised short-rib with roasted sunchokes and honey-glazed carrots. "The ginger liqueur enhances the spiciness of the Malbec braising, while the umami flavor from the sunchokes contrasts the fall flavor profile of the drink," she explains.
The combined boldness of the scotch and ginger liqueur is met with the sweetness of the honey syrup to bring your taste buds sweetness with a kick. Craft the Buena Onda at home for your Thanksgiving guests and impress them with how well it complements your holiday feast (or save it for dessert!).
Buenos Aires Café will be serving the Buena Onda on the seasonal menu until January 19, along with other fall and winter-inspired cocktails.
Here's the recipe:
2 oz. Famous Grouse Blended Scotch
¾ oz. Lemon Juice
½ oz. Honey syrup
½ oz. Fruit Lab ginger liqueur
Directions:
Stir lemon & honey in a tin shaker, then combine the liquors with the mixture. Add ice and shake until chilled. Strain over a large rock and serve in an Old Fashioned glass. Don't forget to garnish with star anise and enjoy!
---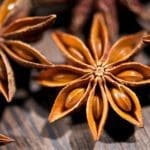 Did you know?
Commonly used in fall recipes alongside fruit or in replacement of fennel, star anise is the fruit of a small, oriental tree. Native to only China and Vietnam, it consists of 5-10 star "points," from which it gets its name. Each point is a "boat" that contains a seed. These fruits are picked before they are ripe and dried, then either sold whole, or ground into a fine, brown powder.
---
Contact:
Buenos Aires Café
(512) 382-1189
1201 E 6th St.
Buenosairescafe.com/este
@buenosairescafeatx