A small seed planted by the YWCA more than four decades ago to foster community gardens has blossomed into a multi-layered nonprofit that helps east-siders live a healthier life.
Words by Rick McGee  Photos by Eric Morales
"Food is part of all of us. It's a shared existence."  
"We serve people who eat," says Ronda Rutledge, Executive Director. "We help the low income mom who is struggling to put healthy food on the table and the foodie who wants to eat local and enjoys the gourmet aspect of food." Housed in a nonprofit village near the MLK metro rail on East 17th Street, the Sustainable Food Center (SFC) building is solar-powered and a 4-star rated green energy space with a commercial kitchen and community room that can be rented to the public for community events, neighborhood meetings, dinners and birthday parties. The impetus for SFC was growing healthy food, and it has not strayed far from its roots. On the SFC grounds is a teaching garden and community garden. Even the second floor balcony squeezes in a small garden with a mix of foods, some used in cooking classes held downstairs. East Austin has some of the most fertile farmland in central Texas, though less than 1% of food consumed in Austin is sourced locally. "Our approach to food security goes back to that philosophy of teaching a man to fish," adds Ronda. "The beautiful thing about Austin is that we all have things to learn from each other, walking alongside the people that we serve. We believe that the community's inherent power and leadership is the foundation for a truly equitable and sustainable food system." Everyone Can Participate As the population of east Austin shifts like many communities across the country, SFC has orchestrated an economic circle of life. A wide array of cooking classes are offered to the public: some for a fee and some for free. Monies generated from fee-based classes help support those provided for free. "People that can afford the fee-based classes get a great deal and also know their contributions are helping others in the community," says Betsy Boone, Marketing and PR Manager. Impact Beyond the East Side The impact of SFC is felt throughout Austin and in some cases, other parts of the country.  "We were born on the east side of Austin 40 years ago and have grown into a sustainable food thought leader," Ronda says with pride. While much of the healthy food action begins at the SFC building, most of the real game is played in kitchens, yards, schools, churches, farms and farmers' markets spread across town and from coast to coast. SFC has provided 'seed to table' training for communities from California to North Carolina. Closer to home, SFC manages four farmers' markets across the city. "We bring the management, volunteers, information tent, infrastructure for credit card payment, double dollar program, live music, and local farmers and food vendors bring the good food," adds Ronda. Simple Steps In 2008, when people across east Austin felt economic hardship, low-income families had to rely on food banks and scramble to grow their own food. SFC could not keep seeds on their shelves. Through its "Spread The Harvest" project, SFC seeks to reduce financial barriers by providing free gardening materials, including seeds. "The majority of our clients can't afford to shop at a Whole Foods, nor do they have one in their neighborhood," says Ronda. SFC encourages clients to grow and prepare food with produce like kohlrabi, a root vegetable that grows like a weed and can be turned into all kinds of amazing dishes. It might be weird looking, yet it's grown in abundance around Austin. "The Happy Kitchen/La Cocina Alegre® program teaches families to take advantage of locally grown produce mixed with condiments, spices and other foods they buy at the grocery store," Ronda explains. Other small changes people learn are to switch cooking oils, avoid soda, and change to 1% milk rather than 2%. The Hunger Gap A native Cherokee from Big Spring, Texas, with twin daughters and a full plate at the office, Ronda somehow finds time to focus on larger issues that impact the healthy lives of families in east Austin. When asked what keeps her up at night, Ronda quips, "Climate change. There might be a vegetable garden at the White House, which is a great image, but our government is not making enough real progress, and we still incentivize commodity crops over fruits and vegetables." As she reflects on this thought, Ronda smiles: "We can close the hunger gap by teaching families to grow, share and prepare healthy foods on their own."
Cook Healthy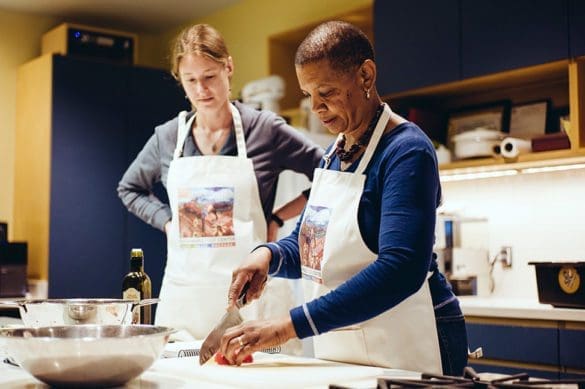 91 Cents Self-prepared healthy food is not just good for you; it's also very affordable. The Happy Kitchen cookbook (page 147) compiles the list of ingredients to make spaghetti squash with garlic and parsley. This nutritious entrée is recommended for autumn and winter and covers the 'veggies and grains' food groups at a cost of 91 cents for each of four servings. "It might take more time to eat healthy foods that you prepare yourself than hitting the fast food restaurant on the way home from work. If you have 30 minutes or an hour, get to it," encourages Joy Casnovsky, Program Director of The Happy Kitchen. Learn Near Home Joy's cadre of 43 facilitators enable The Happy Kitchen to teach healthy cooking principles to more than 600 people in their own communities each year. Food behaviors are altered in six-week courses as students learn to cook healthy, consume more fruits and vegetables and take advantage of unprocessed foods. They also learn how to simplify the complex nutrition labels at grocery stores. "Students learn that 5% is low and 20% is high, rather than worrying about milligrams. They gain confidence to identify healthy foods and knowledge to buy, grow and cook with nutrition in mind," says Joy. Cooking at Church A forty-three year background in nursing prepared Jackie Williams to help educate and empower her community to eat healthier, cook seasonally and more affordably. "Being in the health profession made me realize people do not know how to eat healthy nor understand the impact of unhealthy food on their lives," Jackie says with urgency. Each September, Jackie facilitates the six-week cooking class at Greater Mt. Zion Baptist Church for thirty participants, an extension of The Happy Kitchen program. Jackie emphasizes local, seasonal and cultural appropriate foods while also encouraging attendees to shop at farmers' markets and grow their own food. Students also learn to change their food buying patterns. "My students become grocery store basket watchers," Jackie says proudly. Her eyes sparkle as she talks about experimenting with new foods and fun snacks. A class favorite is popcorn cauliflower that is seasoned, roasted and mixed with turmeric, a cancer-fighting plant long used in Chinese and Indian medicines. Jackie's next class this September will be somewhat special. "It will be a new class in a new commercial kitchen at a brand new church," Jackie enthuses. HEB Partnership Removing obstacles to healthier lives is an overriding goal at The Healthy Kitchen and its partnership with HEB who provides funding for cooking classes, some provided at five local stores. Eager participants learn about locally grown foods and seasonal selections all the while knowing the ingredients can be found in the grocery aisles where they take classes. Begin Your Healthy Journey Sustainable Food Center is adding a sweet touch to its gardens and food classes: honey. A new apiary will open this spring and essential bee keeping classes begin April 17. Upcoming Classes:
Intro to Food Gardening Home Composting Essential Beekeeping Skills Grow your Medicine: Cultivating, Harvesting and Storing Herbs Seed Saving Rainwater Harvesting Community Garden Leadership Training Gone Wild: Recipes for Gut Health Essential Knife Skills To Your Health: Plant-Based Cooking on a Budget Savor the Flavor: Cooking with Herbs Handmade with Love: Natural Bath and Beauty Products Spice it Up: The Healing Power of Spices To Your Health: Medicinal Uses of Herbs Yes, We Can: Tomatoes Butchery for the Home Cook: Making Homemade Jerky For more details and a full list of classes, visit sustainablefoodcenter.org/get-involved/classes-events
Grow Healthy Food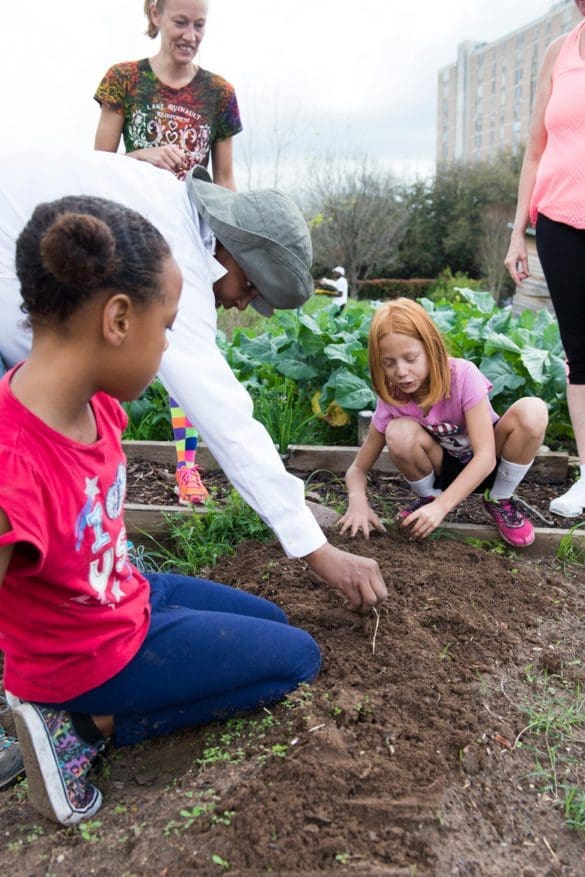 Garden Stewards The term anthropology is derived from Greek words and literally translated means 'the study of the human.' Along with a degree in biology, it provides a necessary background for Sari Albornoz, Grow Local Program Director, to build an extended community of Garden Stewards across Austin. "Community gardens require sustained support from the larger community, not just one person. It's a social endeavor as much as a science project," states Sari. What separates successful community gardens from those that fail is often social and organizational skills like team building, conflict resolution, effective communication, and appealing to interests rather than positions. "It's amazing to see people gain skills they can apply more broadly in their lives as they build and support a community garden," Sari adds.
"Community gardens require sustained support from the larger community, not just one person. It's a social endeavor as much as a science project."
A Sensory Interaction The Grow Local Program has influenced more than 120 school gardens, over 55 community gardens and hundreds of family gardens around Austin. Children exposed to community gardens at a young age have a sensory interaction with healthy food. They smell the soil, see a carrot being pulled from the ground, feel the sun and wind on their faces and hear the birds chirp, all while creating lasting, powerful memories about nutritional food. "Food is part of all of us," comments Sari. "It's a shared existence." Growing & Learning An IRS Taxpayer Advocate by day and a Community Garden Volunteer by night keeps Regina Mitchell's hands full and sometimes dirty. Children swarm around her with never ending questions. "Kids are usually hesitant their first day, so I show them a bug and they scream ooh!" laughs Regina as she wipes a spec of mud from her cheek. "Then we smell the herbs, and I give them vegetables to take home or a flower for their mama." The tricks of an experienced gardener are well played at Festival Beach Community Garden. An idle two acres owned by Austin Parks & Recreation is now a fertile haven for gardeners in a 'first of a kind deal' coordinated by SFC, managed by volunteers, enjoyed by the community and replicated five times across the city. "Our role is more administrative now that we are rolling," says Sari. "Volunteers like Regina make things happen." Two heart attacks at a young age and memories of her daddy gardening in the backyard spurred Regina toward her new passion. "It really made me think about the foods I put in my body," comments Regina. People from all over the world live in the nearby community. They rent affordable plots or volunteer to work the soil. "We might not share the same tongue, but we all speak garden language," smiles Regina.
Create a Healthy Relationship
Connecting Urban & Rural Where can you obtain fresh produce and meats, grab a taco for lunch, listen to live music and meet a farmer or two? At one of seventeen farmers' markets around Austin, four of them created and managed by SFC. Of particular interest to fixed income residents is the Double Dollar Incentive Program sponsored by SFC and funded by a variety of foundations and the City of Austin. Participants receive dollar for dollar matching up to $20, for monies spent on fruits and vegetables at farmers' markets. "We often hear people could not afford to feed their family fresh produce without the Double Dollar program," states Andrew Smiley, Deputy Director. Smiley wears the look of his namesake when asked the typical reaction of a first time Double Dollar cardholder at a farmers' market. "Initially there's trepidation because of the unfamiliar surroundings.  We seek out newcomers and introduce them to local farmers and quickly watch meaningful relationships form, some that remain in place for many years." Springdale Farm Partnership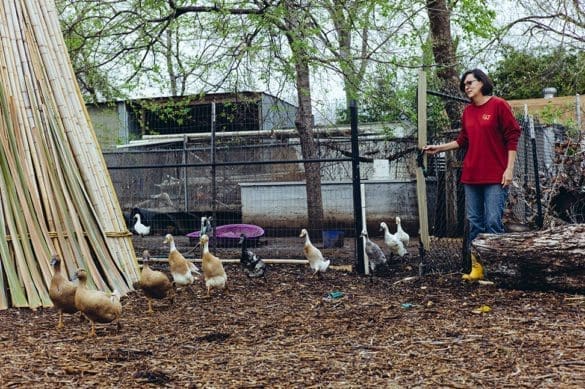 In 1992, Glenn and Paula Foore started a landscape business in east Austin, enticed by an economic redevelopment program to hire east-siders. Seventeen years later, they rolled the dice and founded Springdale Farm. "I've always been a gardener," reflects Glenn. "So we grew into a farm." Situated on 5 acres a short three miles from the State Capital, Springdale Farm welcomes a broad community of foodies, restaurant chefs and participants in the SFC Double Dollar program where "$20 gets you $40," reminds Andrew. Paula and Glenn are on a mission to steal customers away from fast food restaurants and put the best possible healthy food on everyone's table. "Our community includes the grower, the cooker, and the eater," says Glenn. "And our partnership with SFC enables us to make healthy, affordable food accessible to everyone." It's more than an urban farm on Springdale Road. There are food trucks, dinners, events, school tours, bicycle groups and weddings. One evening the Texas Cattlemen Association sent 150 people over for dinner. "Sometimes it feels like I am holding three basketballs under water at the same time," remarks Paula. A Local Food System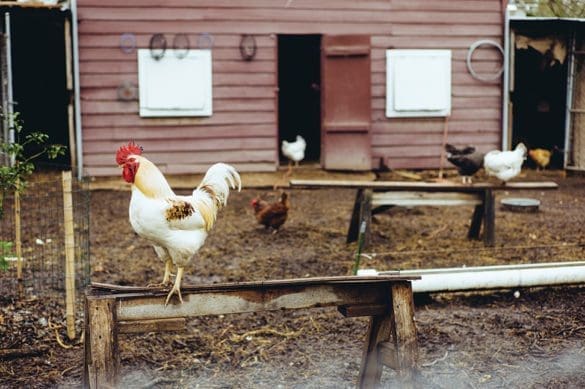 The local food system enabled by Springdale Farm and other urban farmers allows the Austin community to connect and learn about healthy food from each other. "There's no reason to make a 60,000 mile salad," smiles Glenn as he shared an insiders' joke about the aggregate distance traveled for the foods in a typical salad bowl. Participants at farmers' markets and Springdale Farm build relationships with their very own farmer right in the neighborhood and farmers build loyal customers in return. "It's all about connecting urban and rural together through social and commercial interactions. It makes everyone more invested in each other," adds Andrew. "There are many entry points into sustainable food for anyone who wants to eat healthier," Ronda enthuses. "Start by growing your own food or take a cooking class to learn about knife skills and healthy dishes, or make a farmer your new friend at a farmers' market."
---
Contact: 512.236.0074 2921 E 17th St. Bldg. C sustainablefoodcenter.org Instagram: sfclocal Twitter: SFClocal Facebook: Sustainable Food Center